The Mutooroo Ridge project (EL6230) is located 70km SW of Broken Hill. EL6230 was granted in August 2018 for an initial period of 2 years. The project was renewed in 2020.
 Mutooroo Ridge is a drill-ready project to test and extend historic oxide Cu intersections of 10m @ 1.57% Cu and 32 g/t Ag, and 5.2m @ 1.45% Cu and 25 g/t Ag that was obtained in the early 70's, and 4m @ 1.27% Cu and 23.4 g/t Ag in the mid-2000's. Mineralisation at Mutooroo Ridge bears characteristics of both VHMS and sediment-hosted Cu-Co deposits.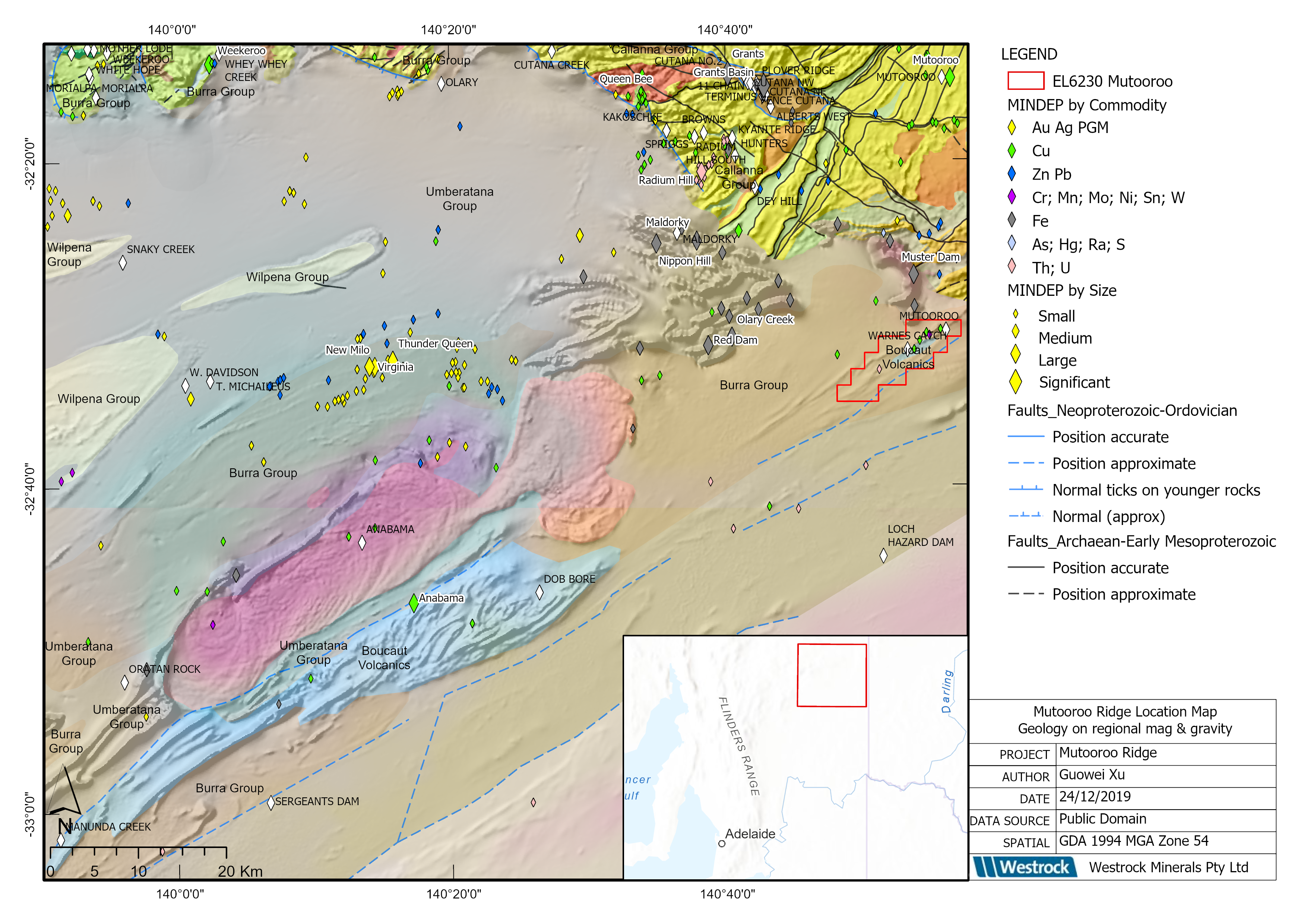 EL6230 is located near the eastern limit of the Neoproterozoic Adelaidean sequence that unconformably overlies the Paleoproterozoic Willyama Complex of the Curnamona Craton.
Outcropping Adelaidean sequence in EL6230 has been metamorphosed to mid-greenschist facies, with dominant steep-dipping foliation and lithological contact striking along the NE-trending ridge. The sequence consists of a basal rhyolite unit, overlain by dacitic/andesitic flows, tuffs and volcaniclastics, progressing into clastic sediments.
 Copper mineralisation on the surface at the Ridge prospect (M7) occurs as minor thin gossaneous quartz veins and patches of malachite staining. In drill holes, copper appears to be within a 50m thick dacitic tuff unit. The mineralisation transitions from schistose parallel sulphide stringers of pyrite-chalcopyrite with accompanying qutartz, tourmaline and carbonate, to malachite-bornite-chalcocite (minor) in the oxide zone. Sulphide mineralisation occurs in 2-10m thick zones, associated with siliceous alteration.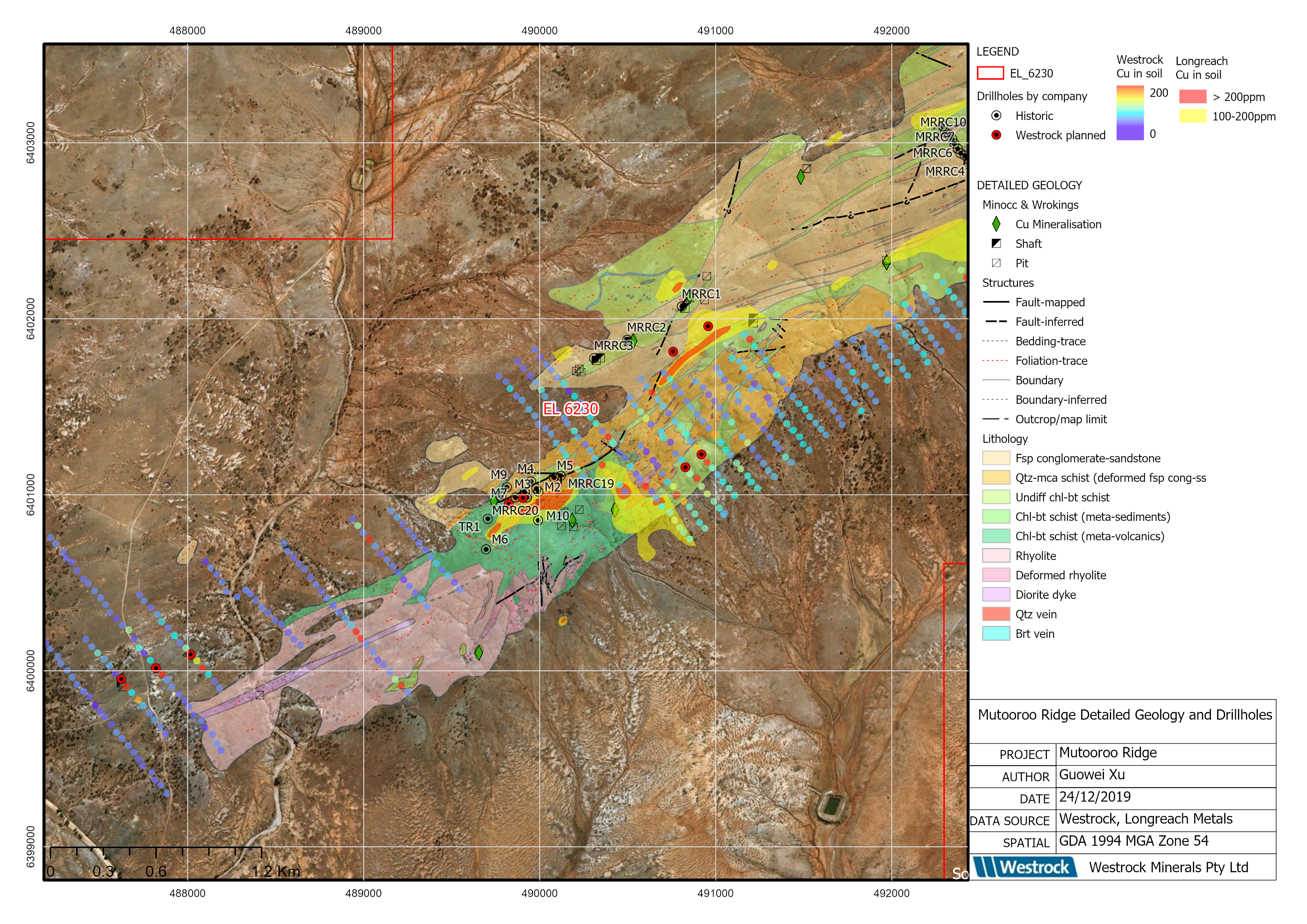 Westrock's exploration activities at Mutooroo Ridge consist of:
Historic exploration data co

mpilation (completed).

A 608 sample infill and extensional soil sampling program (completed).

A nine-hole RC scout drilling program (under planning).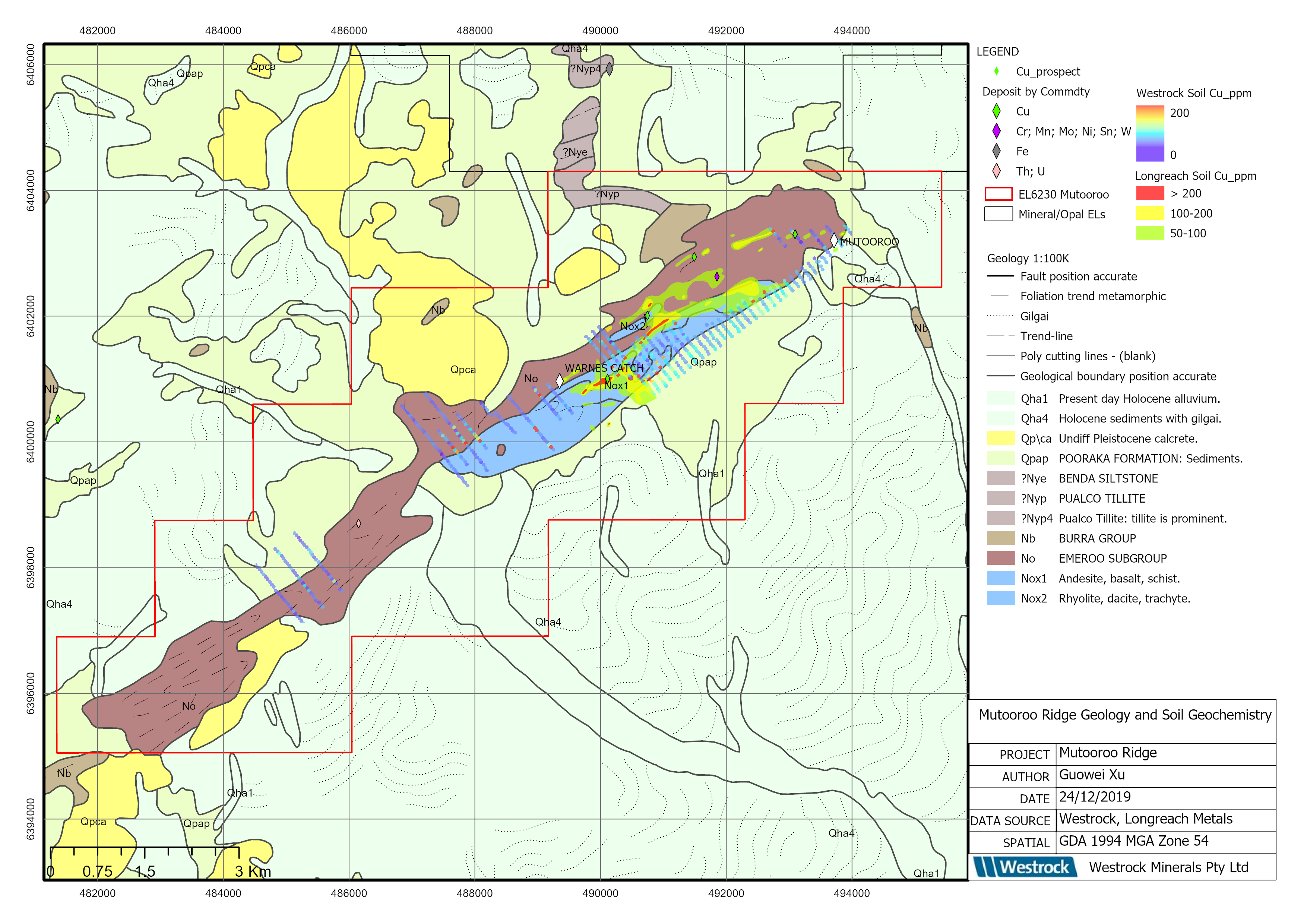 EL6230 is located entirely in the Mutooroo Pastoral Lease.
 Since the granting of the exploration licence in August 2018, Westrock had regular engagements with the pastoral leaseholder and carried out low-impact field programs with consideration on grazing activities and the environment. Westrock is currently planning to carry out an RC drilling program where a more comprehensive community and environmental management plan will be implemented.
 Westrock has also engaged and worked closely with the native title claimant of the project area. Members of the native title claimant took part in a heritage survey commissioned by Westrock in 2019. Westrock plans to offer training and employment opportunities to the native title claimant during the drilling program.