The Stavely Block 1 project consists of ELs 6869, 7275, 7279 and 7283, a contiguous area of 1179 graticules (approx. 1035km2). EL6869 was granted to Westrock Minerals in April 2020 through a competitive tender process, and ELs 7275, 7279 and 7283 were granted in September and October 2020.
The project area lies parallel to and immediately to the west of the Mt Stavely Volcanic Complex (MSVC) that hosts several intrusive-related and VHMS base metal prospects, including Thursday's Gossan.
 Stavely Block 1 contains several Cambrian intrusions of varying magnetic signatures and three volcanic arcs, likely to be of similar age as the MSVC. Partially due to a thin cover of Newer Volcanic Group in the southern portion of the tenement, the area has received very limited historic exploration. Westrock believes that Stavely Block 1 has the potential for hosting porphyry Cu-Au and epithermal Au deposits, and possibly other styles of mineralisation.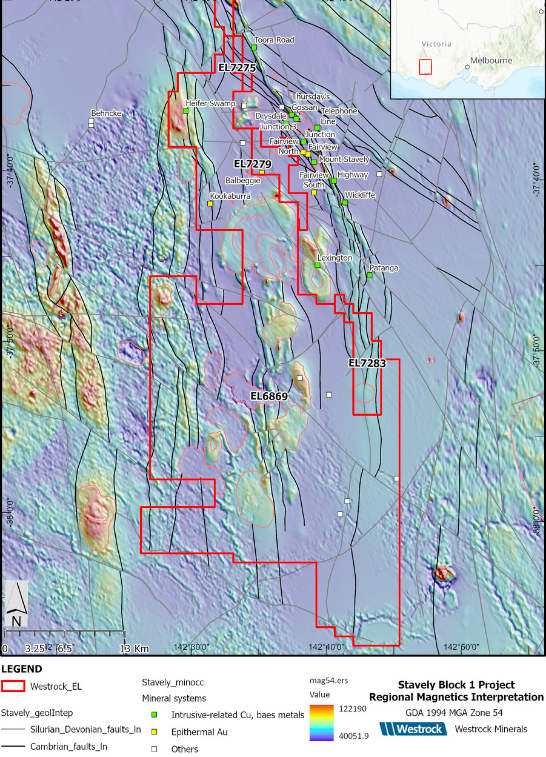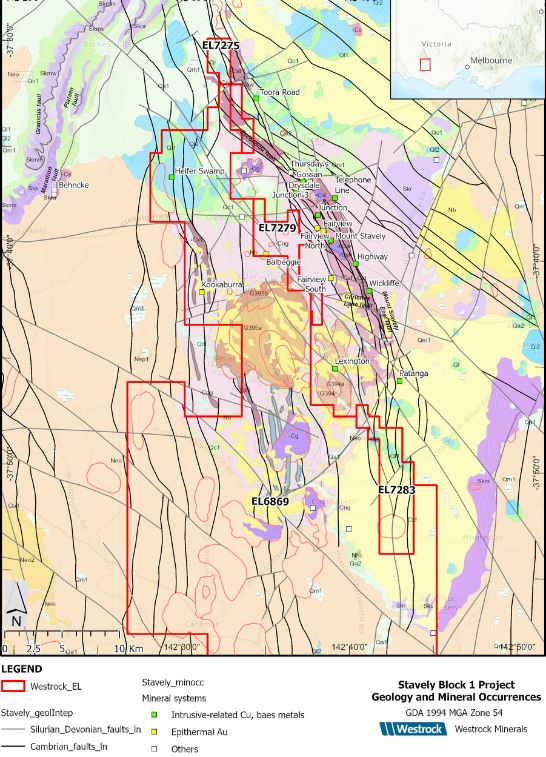 Westrock is implementing a phased exploration strategy that includes:
Historic exploration data compilation (completed).

Regional targeting based on public domain geology and geophysics (completed).

Extensive groundwater hydrogeochemical sampling (in progress).

Possible ground geophysics on hydrogeochemical targets.

RC scout drilling of selected targets.
Stavely Block 1 covers the Shires of Moyne, Southern Grampians and Ararat. Surface rights of the vast majority of the licence area are freehold. The tenements were granted with the excise of Crown Lands.
 Westrock has proactively engaged with the community and established an excellent relationship with many landholders. Our main community engagement activities to date have included:
Participation in three community information sessions (webinars due to Covid-19 restrictions) in conjunction with Mineral Development Victoria (DJPR) in June 2020, to inform various stakeholders of the company's exploration plan.

Written and verbal communications with over 100 landholders to obtain consent to sample private water bores.

Face to face meetings with more than 40 landholders during the water sampling program in October 2020.
 Westrock's community engagement program will continue during future phases of exploration at Stavely Block 1.
Westrock Minerals Pty Ltd acknowledges the financial support by way of contributions through  the Department of Jobs Precincts and Regions "Target Program" toward exploration costs of EL6869.
 Without this assistance many areas of Victoria would remain under explored and developed, limiting future jobs growth and regional development.